THE CHRISTIAN OLYMPICS- GOING FOR THE GOLD CROWNS BY S. E. GREGG
THE CELEBRATION IS NOW OVER. THANK YOU FOR YOUR PARTICIPATION IN THE LAUNCH OF THE NEW KINDLE BOOK:THE CHRISTIAN OLYMPICS-GOING FOR THE GOLD CROWNS BY S.E.GREGG. YOU CAN CONTINUE TO PURCHASE YOUR COPIES BY USING THE LINKS BELOW.
Finally! The Only Book That Can Really Help You Grow Spiritually And Live A Victorious Life.
Which is why, FOR A LIMITED TIME, A host of Authors,Experts,Entrepreneurs,and Volunteers are all Working Overtime to put One Extraordinary Book into Your Hands...
The Christian Olympics-Going for the Gold Crowns by S.E.Gregg,an award winning,bestselling author and spiritual marathan runner for several decades.
THIS BOOK WILL HELP YOU TO:
*Train for the spiritual competitions with spiritual exercises and discipline
* Plan strategies and develop a Game Plan to win the spiritual competitions
* Gear Up and get equipped for the spiritual competitions
* Find Contentment with your own God given supernatural abilities
Next month the London 2012 Olympics will begin,but it cannot be compared to the longest and most enormous competition the world has ever seen,The Christian Olympics. This book unveils the Bible's comparision of the Christian race/life to the Olympic Games.
BUY YOUR COPY NOW
Best selling authors, editors,experts and entrepreneurs like Sandra Humprey ,Carol Brown,D.L.McCarragher,Thomas Blubaugh,Jackie Macgirvin,Barbara Derkson,Kimberly Payne,Violet Flowers, Krystal Kuehn,Anita Estes,Lisa Lickel,Christy Smith,Ray Lincoln,Barbara Derkson,Jill Richardson,Diane Tatum,to name a few, are offering free prizes and gifts for this Special Celebration for the launch of S.E.Gregg's new Kindle book...
Rarely does a book come along that covers all of the aspects of Christian living through a spiritual

athletic perspective as the Bible teaches. From the beginning of

the Christian walk, the Opening Ceremony, to the ending, the Closing Ceremony. The Christian Olympics-Going For The Gold Crowns by S.E. Gregg is that book.
BUY YOUR COPY TODAY.JUST CLICK ON THIS LINK TO AMAZON.COM TO ORDER THE BOOK
:
Read the captivating reviews for: "The Christian Olympics-Going for the Gold Crowns...
"..
.As imaginative and engaging as it is thoughtful and thought-provoking "The Christian Olympics" is enthusiastically recommended as inspirational reading for all practicing Christians regardless of their denominational affiliation." -Midwest Book Review-
"S. E. Gregg captures the contagious excitement and the competitive spirit of the Olympic games in the book "The Christian Olympics: Going for the Gold Crowns." Gregg draws the reader into the thrill of participation in the competition and training of Olympic competition vicariously while applying spiritual application for athletes in the Christian race....Gregg's writing is entertaining, inspirational, and motivating. "The Christian Olympics" is expressive, Biblically sound, and challenging. Let the Games Began! "-Richard R. Blake, Christian Education Consultant and Book Store Owner.
Lolo Jones a track and field athlete,hurdler and a competitor in the Olympics said in a recent interview about being a virgin, "it's harder than training for the Olympics". Yes, the training and discipline in The Christian Olympics are much more strenuous than the Olympic Games. Because the rewards out weigh gold medals.Which is why Christians are the Real Olympians.
HURRY!! BUY YOUR COPY NOW!!
Have you tried everything that you could possibly do? And you read everything that you could possibly find? But you still felt defeated by the enemy?
* Learn how to do spiritual Boxing and Wrestling
* Learn how to do spiritual Long Jumps over your spiritual Hurdles
* Learn why suffering is a Spiritual Workout
* Learn how to endure and be a Finisher
* Find out what Gold Crown you have already won
Many are going through tragedies, problems, disappointments, and heartaches as they have never experienced before. But seeing yourself through the eyes of a spiritual athlete, which this book helps you to do, will put a new perspective and understanding on puzzling life questions.
*THE PERFECT GIFT FOR THE NEW AND MATURE CHRISTIAN*
Learn about the Rapture of the Church,the Coming of Jesus Christ,and end times Prophecy.
What Others Are Saying:
"An impressive spiritual guide with solid reasoning and sound logic, The Christian Olympics is highly recommended reading for anyone seeking to bolster the strength of their personal faith. Kudos to Gregg for producing such a standout inspirational volume that readers of all ages will surely appreciate.."Dominique Sessons for Apex Reviews
"S.E. Gregg, with a skillful and artistic pen, weaves and illustrates the parallels of the Olympic games to the "Christian Olympics" for our spiritual lives." JoAnn Carter, Writer and Speaker
"This is a book every person, every where must read to be inspired and equipped to run this race and not get weary!" Marina Woods, Founder of the Good Girl Book Club

Meet more authors,experts,and entrepreneurs working overtime today for this special celebration: Lynne Dove,Katherine Harms,Paula S.Thibodeaux,Donna Basinow,Patience Prince,Yvonne Wright,Jay Miller,Shirley Corder,Joy,Larry Graysells,Minister King and a host of volunteers.
BUY TODAY
LET THE WORLD KNOW ON THIS SPECIAL DAY THAT WE ARE THE REAL OLYMPIANS !!!

CLAIM THEM RIGHT NOW IN ONLY 2 STEPS:
STEP 1.Purchase your copy of The Christian Olympics-Going for the Gold Crowns using this link to amazon.com
STEP 2.. After you purchase your copy from Amazon.com, write down your confirmation number, come back to this page and enter your confirmation number in the box below with your name and e-mail address and click on the submit button.Your confirmation will be verified within minutes and you will immediately receive an e-mail with a link to all of your free gifts.That's it,just 2 simple steps and you will have your free gifts within minutes
JUST LOOK BELOW AND SEE ALL OF THE FREE GIFTS JUST FOR YOU!!
* TO KICK OFF THE CELEBRATION THE FIRST PERSON THAT BUYS THE CHRISTIAN OLYMPICS WILL RECEIVE A FREE AUTOGRAPHED
COPY OF A SANDRA MCLEOD HUMPREY BOOK OF YOUR CHOICE *
*HURRY AND BE THE FIRST TO BUY* RUN BE THE FIRST !!!

SEEING YOURSELF AS AN OLYMPIAN WILL CHANGE YOUR LIFE
* Disclaimer: This offer is in no way associated with or deliverable by Amazon. They
are delivered electronically over the internet, via email or by phone.If you do not have a Kindle and prefer to order a paperback or hardcover edition,you will also qualify for prizes and free gifts as well.If Amazon shows that they are "out of stock," order TODAY anyway.Their supply will restock very quickly and you will not have a long wait for your book(s).
HERE ARE YOUR PRIZES AND FREE GIFTS !!!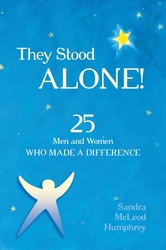 PRIZE #1 -A special gift for the very first person that buys The Christian Olympics,Sandra Humprey will give you an autographed copy of a book of your choice from her website.One choice could be:They Stood Alone!: 25 Men and Women Who Made a Difference is a collection of brief biographies of 25 men and women who refused to conform to the societal beliefs and expectations of their time and, by stepping out and away from the crowd, they changed their world and ours as well. (For ages 10 and up). It has received the 2011 Mom's Choice Gold Award for Young Adult Nonfiction and was the 2011-2012 DIY Book Festival Winner for the Teenage category.Value $14.00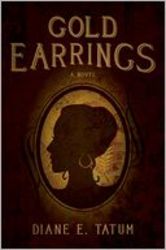 GIFT 1- First 4 chapters of Gold Earrings by Diane E.Tatum. A Christian historical romance set in post-civil war Missouri.Can Jonathan ignore Angelina's Gold Earrings, a constant reminder of the implications of her less than pristine parentage? And will Alice succeed in keeping Jonathan from Angelina? The resilient heroine of Diane E. Tatum's novel will inspire you in this touching tale of love against the odds.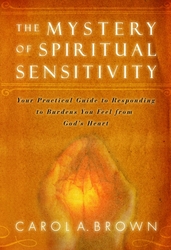 GIFT 2- First chapter-The Mystery of Spiritual Senisitivity by Carol A.Brown. If you have ever wondered what God was thinking when He made you, this is your book. Answers to "Why do feelings come out of left field? Why do I choose to stay away from people? What are all these phantom pains I feel? Why do I "know" things..." There are answers and there are reasons why you are the way you are. You are uniquely designed by God to particpate with Him in His ongoing ministry of reconciliation.You are not crazy, just different, and it is a good thing!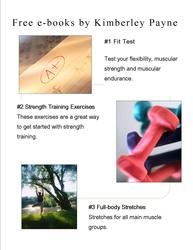 GIFT 3- Free E-Books by Kimberly Payne #1 Fit Test Test your flexibility, muscular strength and muscular endurance. Format: PDF (e-book) #2 Strength Training Exercises These exercises are a great way to get started with strength training. Format: PDF (e-book) #3 Full-body Stretches Stretches for all main musc… #1 Fit Test Test your flexibility, muscular strength and muscular endurance. Format: PDF (e-book) #2 Strength Training Exercises These exercises are a great way to get started with strength training. Format: PDF (e-book) #3 Full-body Stretches Stretches for all main muscle groups. Format: PDF (e-book)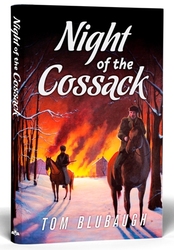 GIFT 4-First 3 chapters of Night of the Cossack, a compelling adventure by Tom Blubaugh about a teenager who is forced to grow up quickly. The main character, Nathan Hertzfield faces many life or death situations during his saga. Join Nathan on his exhilarating journey through parts of Russia and Europe during the early 1900s. Don't miss the adventure and suspense in this riveting story, Night of the Cossack.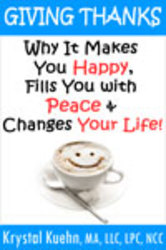 GIFT 5-Free E-Book -In this uplifting book, Giving Thanks – Why It Makes You Happy, Fills You with Peace and Changes Your Life! by Krystal Kuehn, you will discover the untold power of gratitude in every area of your life. You will be inspired to receive and enjoy the good things in life that are available to you every day. Your life and the way you live it will never be the same once you discover the miraculous power of gratitude!
Gift 6-Read the first 4 Chapters of Angels of Humility by Jackie Macgirvin.Look into the spirit realm where angels and demons interact with two average Christians: Fresh out of seminary and pastoring his first church, Paul chases affirmation and prestige following demonic coaxing. Sarah Edwards is a new church member, a recent widow, just saved at age 71. Will she triumph over the demons Discouragement, Depression, Loneliness and Suicide who attack after her husband's death? Sarah has strong spiritual giftings but through several unfortunate misunderstandings, Paul writes her off as an eccentric who hears voices, causing her further isolation.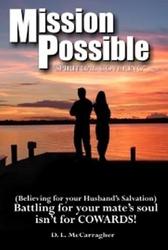 GIFT 7 - Free E-Book- Mission Possible by D.L.McCarragher. Women, are you in an unequally-yoked marriage? Are you tired of attending church alone? You can influence your home for Christ even within a spiritually mismatched marriage.Your mission, if you choose to accept it, is to stand in the gap for your mate's soul. This small book is a powerful tool for any woman who is married to a man who does not share her passion for Jesus. It will encourage and challenge the reader to embrace God's promises for their spouse and future together.Value $7.95
GIFT 8- First 3 Chapters of Fear Not by Barbara Ann Derksen.Brian Strait and Andrea Wilton discover that relationship and intrigue go together when they embark on their third adventure, back to the Caribbean. A visit cut short, the two sleuths uncover a plot that challenges their faith when they search to clear a friend of murder. Their hunt for truth brings them head to head with the black market, human contraband, and culprits who will stop at nothing to line their pockets.
GIFT 9- First 3 chapters of Don't Forget to Pack the Kids by Jill Richardson. A how-to and why-to guide for going on short-term missions as a family. The first three chapters here stand alone as the "why"? The book is about missions, but it's more about transformation--of you, your kids, and your world. And it's not the impossible dream it seems.
GIFT-10- Free E-Book-Faith and The Temperaments by Ray W.Lincoln. Faith (beliefs) are the motivators of our lives. Here is the only insight (of which we are aware) into how each of the temperaments handle and benefit from faith or belief. It's a fantastic, practical understanding of why and how each of us either succeeds or fails. Failure is too often spelled "I did not understand who I was." Most people fail because they don't know themselves. Struggling? Wanting the best? You simply can't do without this. The success and fulfillment you long for and that God created you to enjoy are in the blueprint that He placed within you — your InnerKinetics®.
Prize #2 For The 20th Buyer of The Christian Olympics-A Free Autograph copy of The Designer Bag At The Garbage Dump by Jackie Macgirvin, MA, It's a Wonderful Life meets The Shack-Go along for the ride as God turns 32-year-old Julie's manicured, pedicured, self-absorbed designer life upside down using 11 orphans living on an Indian garbage dump.Value $14.99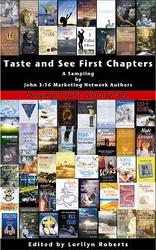 Gift #11 Free E-Book by Lorilyn Roberts Author and Founder of the John 3:16 Marketing Network -"Taste and See" is a generous sampling of first chapters and other writings by John 3:16 Marketing Network authors. In this collection of fiction and non-fiction, you will find writing targeted for all age levels, including children's picture books, young adult, adult, devotionals, short stories, recipes and poems.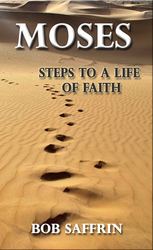 Gift #12-Free E-Book -Moses-Steps To A Life Of Faith by Bob Saffrin- God is a dreamer. One day he had a dream and then he thought to himself, "Who will I get to fulfill this dream?" And then he made you. He created you to fulfill a dream. You are made for a purpose. This book is about knowing God's dream for your life and believing him to accomplish it in you.Value $11.95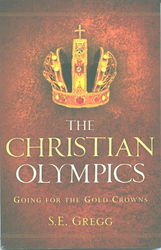 PRIZE #3 For the 50th Buyer of The Christian Olympics,You will receive a Free Hardcover Copy of The Christian Olympics autographed by S.E.Gregg in Gold. Value $25.00
GIFT 13-Free Short Story- For All Those To Come-A short story of remembrance and encouragement for everyone who's lost someone dear and needed a reason to go on.By Lisa J.Lickel author of the Map Quilt.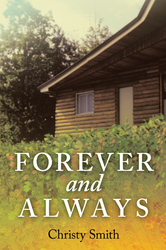 GIFT 14- Free E-Book Forever And Always by Christy Smith-Forever and Always tells of the ups and downs of the freshly discovered love of a young couple, Patricia Heifelmeyer and John McDougal, at the end of the Civil War.Love, laughter, learning, mystery, secrecy, and murder are all woven throughout the pages of this book. The American Civil War raged from 1861 until 1865 and claimed more than 600,000 lives. Is John McDougal among their number? Value $9.95